Cock Shot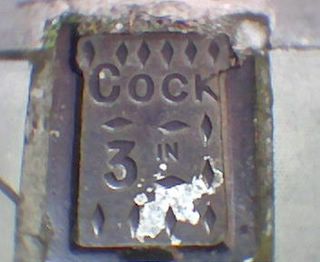 Wandering through the streets of my home town, I found this brass plate embedded in the pavement. Of course, I am fully aware of its purpose in the grand "water main/fireman" scheme of life, but it started me thinking - municipal double entendres - are there many more of them?
So, I spent the day with my camera phone (actually, it's the first photo I've ever downloaded from my phone - remarkable quality for a piece of add-on Nokia rubbish) stalking my picturesque metropolis, looking for rude words, in official typefaces. And here are my results: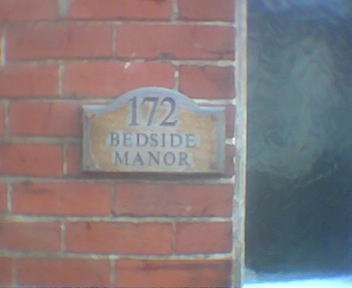 I'm afraid that's it. A picture of someone's house with a not-very funny name plate, entirely based on the occupant's profession in the medical sector (I'm guessing). Maybe the City Council don't actually have Finbarr Saunders working for their signwriting department, but it would be nice if they could make more of an effort. When I was at school in Bristol, the local scaffolding company was called "Avon Erections", which always made us giggle. And there's a tool hire firm on the A27 called "Beaver Tool Hire". But
c'est tout
. Can either of my readers find an original (ie not from an email circular - I have loads of them!) example to appeal to my puerile mind?