What Shall We Do With The Drunken Sailor?
So. I'm back. It's been a long old 6 weeks, almost continually at sea, with the end result of having no money left,
severely damaged kidneys, some cracking photographs and the new skill of managing to function on only 5 hours semi-drunken sleep a night. Despite rumours to the contrary, it's my job, rather than an extended aquatic holiday, and it's brief periods away like this that actually confirm to me that I'm (sort of) in the right business. Every job has it's pros and cons, and I'm at the stage now when I get itchy feet and mentally write them out on a fairly regular basis...
Good money(ish), lots of travel, seeing fantastic sunrises, sexy uniform (every nice girl/boy (delete as applicable) loves a sailor), the "not being in an office" factor and the opportunity to be out of mobile phone range for days at a time.

Could be (a lot) more money, travel is limited by ship programme and luck-of-the-draw job allocations, British weather at sea tends to lead to more multi-coloured yawns than multi-coloured skies, uniform makes you look like a Securicor Guard, the paperwork is never ending (and at least offices don't throw books/papers/computers half way across the room in bad weather) and it's actually rather annoying to be out of mobile phone range for days at a time.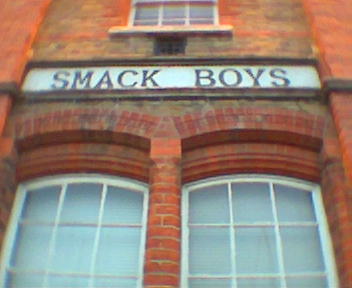 But, nevertheless, I shall probably remain where I am. In what other profession can you travel to ports such as Ramsgate, where you are given a fairly clear municipal instruction on the behaviour expected (see photo left), and thence to Amsterdam, where a location is provided for that very purpose (see photo below right)?! I have seen, in the last month, a cornucopia of dockside red light districts (no, I most definitely did not partake), many
dangerous varieties of Belgian Beer (
never
drink "Kwak" Beer - it's 11% alcohol!), the most incredible assortment of tall ships (plus many warships, small ships and old ships), the inside of a Dutch police wagon at 5am(long story, not nice), some of the worst nightclubs in Europe (generally those to be found near the seafront of small British ports) and a lot of alcohol-fuelled roistering, with the occasional episode of good-natured nudity. But it's over now. And I can't pretend I'm not relieved!
Highlights? The Trafalgar 200 celebrations (see my previous post) were superb and a real honour to attend, especially as the tabloid-predicted "Red Fleet" vs "Blue Fleet" sensibilities proved to be complete rubbish and the entire day was about the plucky British against the evil
French. Five days in and around the Channel Islands were also very enjoyable, and in a "tweak the nose of neo-feudal plutocracy" move, we anchored off the private island of
Brecqhou
. This beautiful place, home to the secretive millionaire Barclay twins, is notorious for gun-toting thugs in speedboats ordering sightseers and bathers to "get orff my land", but (un)fortunately we were left in peace to have a dip in the glorious sunshine. If one didn't require £5,000,000 in liquid assets to reside there, I think the Channel Islands would be quite a nice place to live. Maybe I'll buy the Spectator or something - non-stop orgies, informed soft-right-wing opinions, and the opportunity to own a large neo-classical palace on a rock near Sark. Sounds like a life I could get used to.
Lowlights? Erm, probably the end of my long term relationship. But that's a separate (and rather private) matter entirely. I now have a few weeks off to regroup, recharge, and replenish my funds. And then I'm going to try and work out how to get people reading my blog occasionally! Happy August...