Jones! Bowden!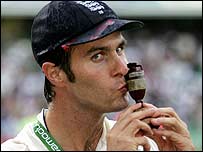 Well, I'm knackered. I haven't been able to keep my eyes off the TV. I've neglected my job, social life, healthy eating drive and bank balance - but it's all been worth it because at 6.14pm, after a farcical 13 minutes of "bad light",
England finally regained the Ashes
. Ignoring the slightly regrettable, but eminently refreshing tabloidisation of the sport for one moment, I honestly think that this has been one of the best-natured, spellbinding sporting spectacles ever seen in my lifetime. The players have been polite to each other, the sport has lost it's public school image, and amazingly even after 5 matches, of 5 days apiece, the entire series was decided in the final afternoon of the final test. There were heart stopping moments, displays of amazing sporting brilliance, more twists and turns than a snake's orgy, and entire matches resting on quirks of fate, rain clouds, umpiring irregularities and dropped catches. And it was fantastic.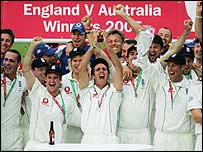 And what a
memorable end to the series
. Warne and McGrath playing their last match against England. Pietersen (who actually applied for Australian citizenship but was turned down, so he came to the UK) scoring his maiden century to draw the game. Richie Benaud commentating for the final time in the UK (what is Billy Birmingham going to do now?!). The Ashes being in English hands for the first time in 16 years. And, unfortunately, the greedy money churners at Sky TV winning the television rights until 2008.
I'm not a sporting journalist. Or even a journalist. But well done England, and well done Australia. And thank you, Her Majesty's Meteorological Office.