Now Then, Now Then. How's About That Then? Etc
Via a fairly roundabout route (and I don't mean the traffic measures) I recently came across a superb site where - if you are between 23 and 33 - you can indulge in your wildest dreams and fantasies. What?! No no no, not that (besides, she's in her sixties now), what I mean is - thanks to a splendid fellow called Thomas Scott, you can get your own online "Jim'll Fix It" badge by clicking
here
. I used to be fairly obsessed with
Jim'll Fix It
, which (for the Americans/young/forgetful) was a long-running TV programme where ever-hopeful pre-teens wrote into an ageing former DJ called Jimmy Saville detailing their deepest held desires, and he would (on Saturday night TV) make them come true in front of an audience of several million jealous other pre-teens. I think I wrote about 3 or 4 letters to the programme asking for such sensible and eminently realistic items as "a million pounds" and "a billion pounds" and even "a puppy". The ungrateful eejit never used these letters on the show, and despite the fact that he would quite happily allow some deprived oik from Yorkshire to experience some inane activity such as 'visit London', or 'eat hot food', he never realised the televisual goldmine that would have resulted from me becoming richer than all my parents' friends put together, live on air.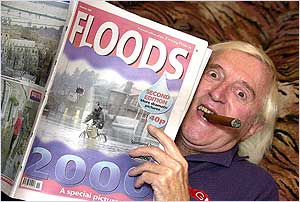 But the BEST thing about the show was the theme tune. For years I have had random snippets of lyrics going round my head, but thanks to the marvellous people at
TV Cream
, I have just heard the music for the first time in about 15 years! Wow! As Proust would say, nibbling on a madeleine, lost in an evocative reverie, "Bloody Hell, that brings back memories". So, in order to revert to your childhood, click
here
for the best 1 minute and 12 seconds you'll have today. Why not do the right-click-'Save Target As' thing and put it on your iPod. In fact, why not make it your mobile ringtone? It beats
that fucking frog
. In all their songwriting days, I don't think Lennon & McCartney ever came up with such lyrical genius as "
Your letter was only the start of it, one letter and now you're a part of it. Now you've done it, Jim has fixed it for you. And you and you
". Not even Mozart, in his most creative moments, added a backing line of "ba-de-ba. Ba-de-dah" behind his concertos. How's about that then?
But what of the man himself? Now knighted (there's a fact to make the original founders of the great Orders of Chivalry rotate in their ornate graves) , Sir Jimmy Saville OBE is, I'm slightly amazed to hear, still actually alive. Looking a bit like Rod Stewart, I saw a fly-on-the wall documentary about him once when he claimed he hated all children, but that was originally a ruse recommended by his mother only to avoid any possible accusations of "interfering" with the kids. But in fact, over the ages, he did in fact learn to genuinely hate children. What a heartwarming story! He also lived with his mother his entire life until she died, and even to this day, keeps her bedroom exactly as it was when she passed away. And the only thing anyone ever remembers him doing (other than Jim'll Fix It, and your Dad claiming he was once a DJ on Radio 1) is that he advertised going everywhere by British Rail trains at the one time when they were truly the worst mode of transport in Britain (and that includes Austin Maxis). Oh, and he smoked huge cigars.
So here's to you, Sir Jimmy. Eccentric, cigar-smoking, dead-mother-worshipping train spokesman. Who never gave me that bloody money, but was resolutely
not
a kiddy fiddler. Cheers.