Preternatural Portmanteaux in Penisland
A friend recently surmised to me that people who take things a little too literally (and by definition have the lateral thinking abilities of a dead squirrel) tend to also be interested in IT. Now this may be a huge generalisation, not to say a slur on the hard working technical types out there, but if you look at the "wacky" ties, unamusing bumper stickers and unfathomable bulletin board discussions displayed by our computer-literate gurus, you rarely see subtle irony or amusing wordplay, so he may just have a point.
A further justification for this theory is the plethora of inadvertent
double entendres
displayed in web addresses, especially those made up of two words that have been combined into a domain name
portmanteau
, with no regard to the fine art of proof reading. My favourite example of this law of unintended consequences is the (no doubt very prestigious) online store for fine pens and writing implements,
Pen Island
. Why not visit their website ...
http://www.penisland.net
?
I think I actually know where Penisland is on the map, thanks to the Finbarr Saunders who clearly works at the European Central Bank's numismatic department: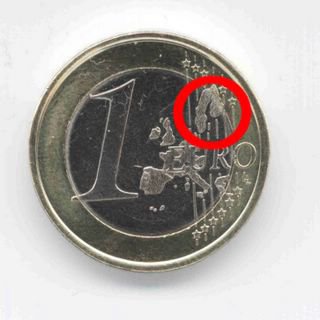 Other examples of this phenomenon you could investigate include the incredibly worthy "Who Represents?", an online database for agencies to the rich and famous:
http://www.whorepresents.com
.
Why not visit Experts Exchange, a knowledge base where programmers can exchange advice and views? Just type in
http://www.expertsexchange.com
and watch your IT administrator's filtering software light up!
After being sacked for abuse of your company's IT system, you'll probably need a therapist. Try:
http://www.therapistfinder.com
.
Bored of Neverland? Then why not travel down under and enrol your children at the Mole Station Native Nursery, in New South Wales:
http://www.molestationnursery.com
.
But my favourite is something which fans of Robot Wars all wanted to type into Google, but never quite got round to. Picture the scene. You're an international electricity generating company. You have a subsidiary in Italy. What you need to do is register a suitable domain name. Yes, that's right - it's
http://www.powergenitalia.com
! Genius.